Exciting stuff: Blogging for Dummies and SXSW panel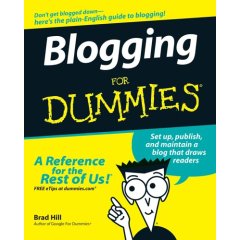 Hi all, two exciting pieces of news have made me put the blog back in action today. First, I'm working on a new book: Blogging for Dummies, 2nd Edition.
The first edition was written by Brad Hill, but the publisher—Wiley—wanted to revise the book this year and Brad wasn't able to fit it into his schedule. So Wiley asked me if I would take the book on, and I'm working away at a revision. Revising a book like this is challenging. Wiley doesn't really put any of the Dummies books out of print, so I wanted to write a book that would be different enough from the first edition that Brad and I weren't in competition. Ideally, someone who buys the first book would also benefit from the second. But also, blogging sure has changed a lot! So there's loads more stuff to try to fit in. I'll post the proposed table of contents when its a little more firm. At this point, the book should be out in March 2007, and in the meantime you can definitely finds lots of great blogging information in the first edition: Blogging for Dummies.
The other exciting news is that my fellow blog designers and I have put together a panel proposal for SXSW Interactive for 2008: Blog Tool Death Match! We're really excited to get out there and try to evangelize for our favorite programs, but we do need your help. There are more than 680 panels proposed for SXSW, but only about 120 spots. You can vote for us in the SXSW Panel Picker to help us get there, though. Go to http://panelpicker.sxsw.com, register to vote, and once you're in, do a search for "death match" and you'll get our panel to come up. Give us a 5—we'd really appreciate it and we'll do our darndest to give you a great great panel. Here's what we proposed to the organizers:
Every blog project starts with the same question: Which blog platform is the right one to use? Answering this question correctly can make or break the final product. Get the nitty-gritty on each platform from experts who will defend their software choice against all challengers. Will it come to blows?
THREE TAKEAWAYS: Our three panelists will argue vehemently about the strongest features and flaws of each platform. Expect tosee sites demonstrated that highlight the best of each blog software choice, and bring your own questions and criticisms to get tips and workarounds.
PANELISTS:
Thanks!
Comments
Commenting is not available in this channel entry.