Book Table of Contents and First Chapter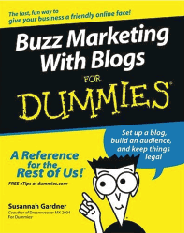 I promised a surprise on Monday, and here it is Monday, so without further ado, I'm pleased to release the table of contents and first chapter of my upcoming book, Buzz Marketing with Blogs for Dummies. These are in PDF.
Update from Travis: As far as I can tell, this is the first time that the Dummies folks have published a chapter online before that Dummies book has been released. Go Susie!
Please feel free to redistribute these files, as long as you maintain a mention of the book title and a link back to this site. I'd love to hear your reactions and thoughts!

Posted by
Susannah Gardner
on 02/28 at 12:49 PM •
About the Book(s)
Comments
Commenting is not available in this channel entry.